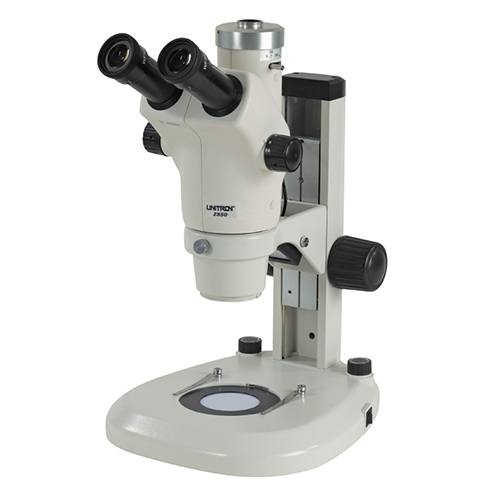 Unitron Z650HR Zoom Stereomicroscope
In Stock
Utilizing a new optical design incorporating a total reflection prism system the Unitron Z650HR delivers higher resolution, higher contrast and brighter images for industrial, biomedical and educational applications than traditional Greenough stereos.
With a built-in camera port and a 0.55x c-mount adapter, cameras can be directly mounted to the Unitron Z650HR. Featuring an 8:1 zoom ratio (0.6x – 5.0x), a 115mm working distance and WF10x/23mm focusable eyepieces, the Z650HR is ideal for industrial inspection applications.
The Z650HR is a versatile, high performance, ergonomically designed zoom stereo microscope ruggedly built to withstand years of heavy usage.
Speak with one of our specialists today to see if the Z650HR Zoom is right for you!
(281) 579-0342
Unitron Z650HR Zoom Series
Standard Specifications
0.6x – 5.0x zoom magnification range
Magnification range 6x-50x (with 10x eyepieces)
8:1 zoom ratio
30° viewing angle
115mm working distance
Interpupillary Distance Adjustment 55mm – 75mm
WF10x/23mm focusing eyepieces with roll down eyeguards
Airtight and anti-mold design
Optional Accessories
LED ring lights, fiber optic illuminators and fluorescent ring illuminators, 0.5x, 0.7x and 2.0x auxiliary objectives, Digital cameras and c-mount adapters, 15x, 20x and 30x focusing eyepieces, reticles and stage micrometers