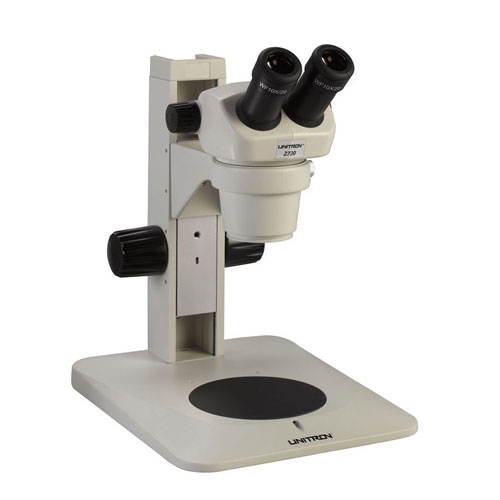 Unitron Z730 Zoom Stereomicroscope Series
In Stock
The Unitron Z730 Series with a 4.3:1 zoom ratio is an ideal choice for industrial inspection, assembly, quality control, OEM integration, research and education applications.
Featuring outstanding optics and a large field of view with a high depth of focus, the Z730 reduces sample handling times allowing for faster inspections and a more efficient work process.
The Z730 Series is available with a binocular (45° or 60° degree viewing angle), or with a trinocular (45° viewing angle) viewing head.
Speak with one of our specialists today to see if the Z730 Zoom is right for you!
(281) 579-0342
Unitron Z730 Zoom Series
Standard Specifications
0.7x to 3.0x zoom magnification range
4.3:1 Zoom ratio
Magnification range 7x to 30x (with 10x eyepieces)
Interpupillary Distance Adjustment 52mm – 75mm
WF10x/20mm focusing eyepieces
Airtight and anti-mold design
97mm working distance
Optional Accessories
LED ring lights, fiber optic illuminators and fluorescent ring illuminators, 0.3x, 0.63x and 2.0x auxiliary objectives, Digital cameras and c-mount adapters, 15x and 20x focusing eyepieces, Reticles and stage micrometers.