Image Stitching Software
Manual Microscope Image Stitching
Our NEW assisted Manual Microscope Image Stitching software enables near perfect image stitching at camera frame rates. Scan and stitch an entire microscope slide in seconds or minutes to create beautiful panorama 'montage' images, regardless of size.
Quickly get the specimen overview to aid in understanding the relationships between microscopic features and overall structure. Save your work for later review, discussion and publication. Utilizing USB3 technology, new CMOS cameras, high performance computer processors and solid state hard drives our software unlike earlier designs will not crash due to overloading memory issues.
Our assisted Manual Microscope Image Stitching module can be used in conjunction with stereomicroscopes as well as with other types of optical microscopes for observation in transmitted or reflected light. The module is also suitable for macro-imaging. Requires manual XY precision microscpe stage, high performance CPU, USB3 port and solid state hard drive.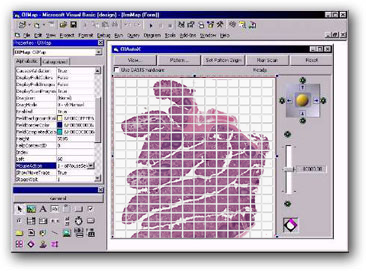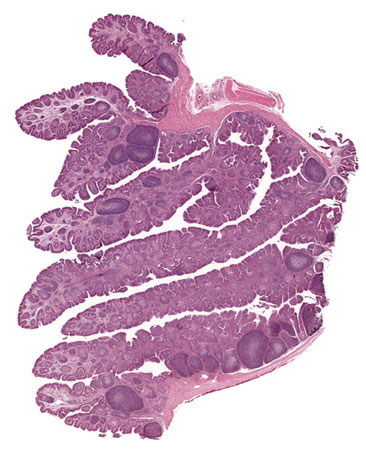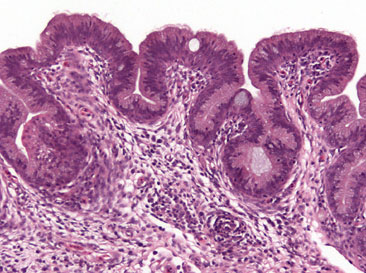 Slide Overview and Image Stitching
The demand for converting microscopic slides into virtual slides is growing. Long-term stability and easy sharing are the reasons why many labs, appreciate the convenience of virtual slides. To counter the high cost of whole slide scanners (WSI) or motorized microscopes, our low cost assisted manual slide stitching software and camera combination is something every lab should consider!
Virtual slides from various staining techniques
Using any existing microscope our assisted manual slide stitching software and hardware solution supports a wide range of contrasting techniques, including fluorescence as well as images composed of more than three color channels.  Even mixing of contrasting modes in the same virtual slide is supported.
Assisted manual stitching using any existing microscope or sstereomicroscpe with an XY mechanical stage
TurboScan offers two working modes: images can be processed during the scan, so that the final virtual slide is available immediately after the system has acquired the last tile. Alternatively, the single images can be stored and processed later, even on another system or with other parameters. This way it is easy to generate partial images from the same set of data, using only selected color channels.
Whether your goal is seamless integration into a flagship automated imaging system, or customized operation for a unique application, Objective Imaging's complete range of automation control software ensures you are fully utilizing the OASIS line of automation control products with minimal effort.
Surveyor with Turboscan Highlights:
Scanning and acquisition at camera frame rates, as fast as 100 micro-seconds
Support for various digital cameras, including QImaging QICAM and Leica Microsystems DFC camera series
High-quality image tiling
Frame-rate shading correction
Fast and accurate relocation
Continuous focus tracking using predictive focus
Compatible with most 3rd party motorized stage and focus drives
Intelligent memory management supports mosaic sizes limited only by available disk space
Available as stand-alone application and as a capture driver for use within Image-Pro® Plus
Ultra-fast microscope image stitching in any illumination technique including fluorescence enhances all research imaging applications. View large assembled images in 3D with optional 3D topography software.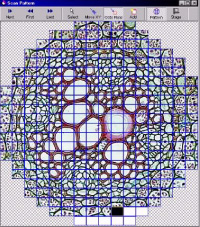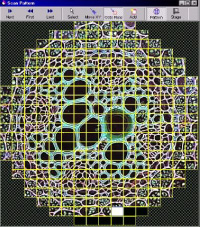 Turboscan Zoomify Examples:
Surveyor with Turboscan software uses the Märzhäuser SCAN for upright microscopes and SCAN IM for inverted microscopes stages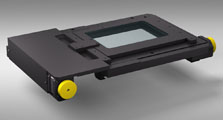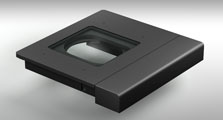 Märzhäuser SCAN-Series Motorized Microscope Stages
The SCAN series has been developed especially for applications that require automatic and very exact positioning of samples. Every stage comes with encoders.
A special long-term lubrication system guarantees that specifications are maintained, even after a very long running period.
The SCAN series motorized microscope stages are simply the best available today.
The SCAN series are used exclusively with Surveyor and Turboscan software.
Flurorescent Brain Section Scanned with a 10x Objective in X, Y, and Z with Extended Depth of Field, using Surveyor with Turboscan software. Turboscan mosaic of over 340 images, digital camera resolution: 1340 x 1022 pixels, scanned with predictive focus, shading correction, and extended depth of field, total time for scan and mosaic: 192 seconds.