Linkam MDBCS 196 Motorized Cryobiology Stage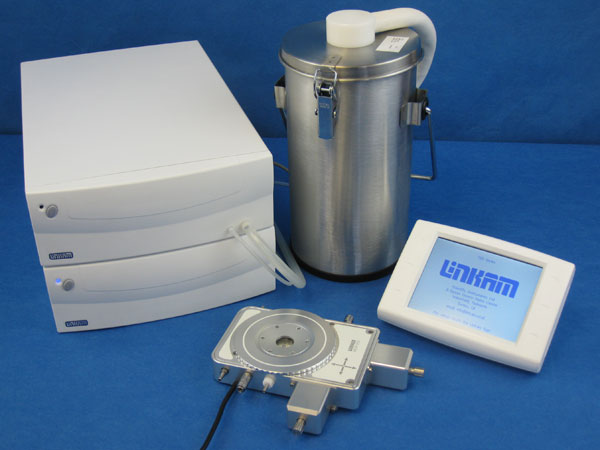 Call Meyer Instruments, Inc., for pricing and to learn more about Linkam temperature controlled stages
Call 281 579-0342 Today!
The Linkam MDBCS 196 motorized cryobiology stage has been developed for the specialized field of cryobiology where extremely accurate low temperature and position of the sample as well as cooling rates of up to 5000°C/min are required.
High speed quench cooling is achieved by high speed motorized movement of the sample from a copper 'warm post' onto a pre-cooled block. It is possible to observe the effect of crystallisation at extremely high cooling rates. This method of high speed cooling is even faster than submersing the sample in liquid nitrogen and has enabled cryobiologists to closely investigate vitrification phenomena.
The silver block is of a similar construction to the Linkam BCS196 but has its cooling pipes at 180° to each other. This reduces the flow of liquid nitrogen needed to cool the block and minimises any vertical movement of the block due to temperature change. For seeding a cold spot has been provided on one of the cooling pipes allowing nucleated freezing to be initiated.
The included LINK software enables automatic serpentine scanning of the entire sample allowing the user to save positions of interest. Add the digital video capture module to create a image map of the sample and zoom in to areas of interest.
Linkam MDBCS 196 Motorized Cryobiology Stage Specifications
Temperature Range -196°C to 125 °C
Controlled Heating and cooling rates of 0.01 to 150°C/min
Uncontrolled cooling up to 5000°C/min
PC control using LINK software
Positional resolution of motors 0.05µm
Position repeatability <3um
150 X,Y cordinates can be stored
Simple to fit fine focus attachment- Z axis (dependant on microscope)
Max. 15mm motorized X,Y travel
Definable sample scan area
Sample vibration eliminated over entire range of speeds
Designed for use with the LINK imaging software
Ventilated bottom window to eliminate condensation
Novel low profile lid design for rapid lens change
Extremely efficient use of liquid nitrogen
Stage body size – 160 x 80 x 24 mm
Mounts directly on microscope substage using stage-clamps
Objective lens working distance – 0.1mm to 4.9mm
Condenser lens minimum working distance 12.7
Light aperture – 1.3mm Ø for accurate sample temperatures
Optional lid and cooling jacket for high magnification lenses