Linkam THMS600 PS Temperature Controlled Pressure Stage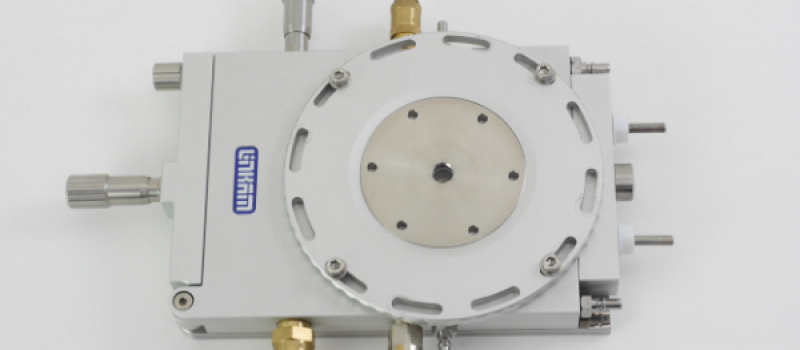 The Linkam THMS600 PS Pressure Stage can be used to investigate the effects of pressure on the sample during heating and cooling experiments by pressurizing the sample chamber up to 14bar. It has also been used successfully in applications where minimizing sample evaporation and sublimation are required.
Similar in performance to the standard THMS600 range of heating and freezing stages, the
THMS600 PS Pressure Stage has an additional safety release valve that ensures the system cannot be over pressurize. An optional manually operated digital display pressure pump can also be added.
At atmospheric pressure, the THMS600 PS can reach temperatures of -194°C to 600°C. At 14bar pressure, the stage has a temperature range of -100°C to 500°C. To cool samples from ambient add the LNP96 liquid nitrogen cooling pump.
THMS600 PS SPECIFICATIONS
Specifications at 14bar
Temperature range -100°C to 500 °C (14bar), -194°C to 600°C (atmospheric)
Sample area of 24.5mm Ø
16mm XY sample manipulation
Up to 100 temperature profiles can be programmed
Choice of touchscreen LinkPad or PC
Stage can be pressurised up to 14bar
Can be used with transmitted or reflected light
Mounts directly to microscope table or substage
Stage body size 135mm x 92mm x 25.1 mm
100 Ohm platinum sensor
Temperature stability < 0.1°C
Direct injection of coolant into block
Highly conductive metal for improved heat transfer
Maximum heating of 150°C/min
Objective lens minimum working distance 8.7mm
Condenser lens minimum working distance 14.5mm