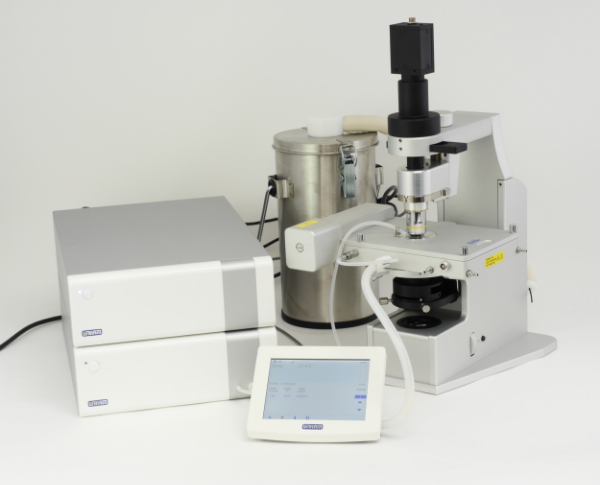 Call Meyer Instruments, Inc., for pricing and to learn more about Linkam temperature controlled stages
Call 281 579-0342 Today!
Linkam TST350 Stage allows you to test the tensile properties of your sample relative to temperature and capture high resolution images of the structural changes.
The TST350 is built with two precision ground stainless steel lead screws to maintain perfect uniform vertical and horizontal alignment. Sample jaws move in opposite directions to maintain sample in both reflected or transmitted microscope fields of view. This also means other transmitted techniques such as x-ray, needed for internal observation of sample structure can be used.
As is expected of Linkam equipment, temperature control and accuracy is second to none, with a range from -196 to 350°C with 0.1°C control and up to 60°C/ min rates, there is virtually no temperature feedback to the measurement of force. The sample chamber is gas sealed and can be controlled with various gases via the gas valves built onto sides of the stage, as well as combined with our RH95 Humidity Generator to test samples under different humidity levels
For x-ray applications, there is a special vacuum sealed version with standard vacuum fittings and feed through connectors for the x-ray instrument cabinet. Contact us for further details.
Linkam TST350 Specifications
Simple mounting plate for optical microscope
Sample easily loaded into jaws
Sample Width 0.001 to 22mm
Sample Thickness 0.001 to 2mm
Minimum Sample length 26mm
Tensile speed range 1-1000um/s
Tensile Force range 0.01N to 20N or 0.1 to 200N
Force resolution 0.001N or 0.01N dependent on transducer
Maximum Travel 80mm
Positional Resolution 10um
Objective working distance 7.5mm
Condenser working distance 12.5mm
Temperature range -196 to 350°C
Temperature control rates 0.01 to 60°C/min
Temperature stability +/-0.1°C
Designed for use with the LINK image capture system
Data can be saved to spreadsheet