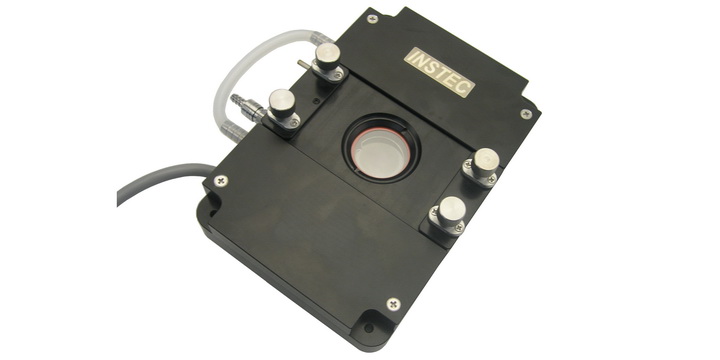 TSA12Gi
Gas tight thermoelectric stage for inverted microscope operation

-25°C to 90°C with thermoelectric heating and cooling

Specific design for samples in Petri dishes up to φ 40.5 mm

Streamlined design for long duration experiments without liquid nitrogen
Description
Instec's TSA12Gi is Thermoelectric Cooler (Peltier) based thermal stage designed specifically for inverted optical microscopes. It features a large and gas tight sample chamber, simple thermal control, improved atmospheric control, wide adjustable viewing window, and customizable base plate.
The TSA12Gi's sample chamber can accommodate specimens and slides up to 53mm x 78mm(optional). The Peltier thermal unit both heats and cools without the need for an expensive chiller or a supply of liquid nitrogen. This is convenient for performing long duration experiments at cold temperatures. It also simplifies the system set up and reduces operating costs. The lid allows for precision temperature control, gas purge, and atmospheric control. The gas tight chamber eliminates oxidation, aids in humidity studies, and conserves expensive reaction gasses. Purge gas is pre-heated/cooled before entering the sample chamber for improved thermal performance. The cover lid windows are defrosted for low temperature operation, and ports are available for the user's own atmospheric sensors, e.g. CO2, humidity, etc. The viewing aperture can be a 40mm wide window or replaced with smaller windows for better thermal operation. In addition an inner lid is available for better thermal uniformity. The TSA12Gi base plate is removable and replaceable. It can be customized to fit a specific microscope stage.
TSA12Gi is an ideal solution for applications such as Cell Culture, Biology, and Thermal Microscopy for inverted microscopes.
Thermal Features
| | |
| --- | --- |
| Temperature Control | mK2000 with programmable  precision switching PID method |
| Thermal Block | Black anodized aluminum |
| Sample Thermal Cover | Removable inner sample cover with additional window |
| Temperature Minimum | -25°C (with 5°C frame cooling) |
| Temperature Maximum | 90°C |
| Temperature Sensor | 100 Ω Platinum RTD |
| Maximum Heating Rate | +12°C per minute at 37°C |
| Maximum Cooling Rate | -10°C per minute at 0°C |
| Minimum Heating and Cooling Rate | ±0.01°C per minute |
| Temperature Resolution | 0.01°C |
| Temperature Stability | ±0.05°C |
| Power Supply | Universal power input |
| Software | Windows software to record and export temperature-time data |
Optical Features
| | |
| --- | --- |
| Optical Access | Reflection and transmission capability |
| Optical Windows | Removable and exchangeable windows permit full-spectrum transparency |
| Minimum Objective Working  Distance | 5.4 mm |
| Minimum Condenser Working  Distance | 22.8 mm |
| Top Window | 27 mm (outer Φ), 20 mm (inner Φ) |
| Top Viewing Angle | ±31° from normal |
| Transmission Aperture | 12 mm diameter |
| Bottom Window | 38.5 mm (outer Φ), 12 mm (inner Φ) |
| Bottom Viewing Angle | ±68° from normal |
| Window Defrost | Integrated external window defrost |
Structural Features
Sample Area

40.5 mm diameter to fit 35 mm Petri dishes

Chamber Height

10.4 mm without removeable inner cover

11.7 mm with removeable inner cover

Frame Cooling

Integrated frame cooling via hose barb ports with optional chiller system

Mounting

Horizontal and vertical mounting capability

Frame Dimensions

159.8 mm x 109.8 mm x  39.5 mm

Weight

1000 g