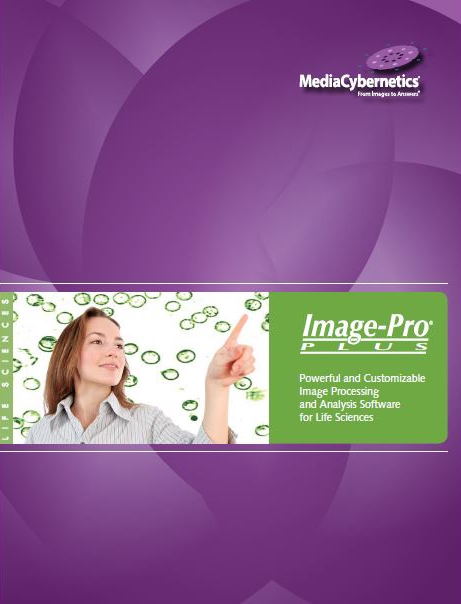 POWERFUL IMAGE PROCESSING AND ANALYSIS SOFTWARE
Used by thousands of researchers worldwide, Image-Pro Plus image analysis software makes it easy to acquire images, count, measure and classify objects, and automate your work.
Media Cybernetics also now offers Image-Pro software. The replacement for Image-Pro Plus and Image-Pro Premier. Learn more about this new software that offers 64-bit support, streaming to disk, new and improved ways to automatically segment, classify, and measure objects, graphical macro development tools and more.
Image-Pro Plus Image Analysis Software (

currently in phase out, limited time availability

)
Image-Pro Plus combines the latest tools for scientific image analysis into one intuitive software package. Reflecting over 25 years of development, evolution, and user feedback, Image-Pro Plus accelerates discovery and includes the tools you need to easily acquire, enhance, process, measure, and share your images. Accurate image analysis begins with acquisition. Utilize the full precision of your capture equipment with easy-to-use capture tools. Image-Pro Plus supports a wide range of digital cameras, image capture cards, and other devices.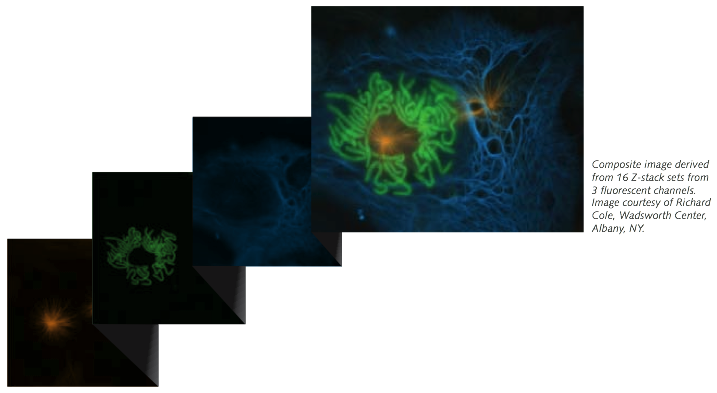 Automated Microscope Control
Control complex microscopy equipment in a simple, repeatable manner for reproducible results. Automatically control your microscope stage in any X, Y, or Z direction and eliminate the need to manually adjust microscope settings.
Multichannel Acquisition
Automate and manage all combinations of image acquisition modes and image sets including time, channel (wavelength), focus (z-stack), and stage position.
Time Lapse Acquisition
Investigate changes in live specimens over time by acquiring images at predefined intervals. Play your time lapse images as a movie to view movement and other activities.
Live Analysis & Measurements
Analyze samples live, without the need to acquire an image. The Workspace Preview feature makes it easy to count objects, apply measurements and interact with online images. The optional Live Tiling and Live Extended Depth of Field tools make it easy to tile large images and perform EDF operations live – while acquiring your images.
Process & Analyze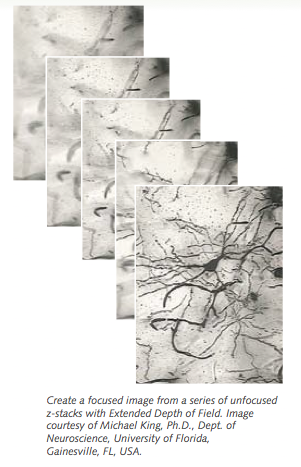 Process and Manage Multiple Images
Tile together a series of images or align sequence images to see a full representation of your research sample. Use Extended Depth of Field to create a focused image from a series of unfocused images.
Morphology
Use a wide range of morphological filters to precisely segment structures and prepare images for automatic measurement.
Filter and Enhance
Choose from a variety of enhancement and edge filters to filter noise and improve image detail. Use built-in deconvolution features to remove haze and retrieve better data from your images.
Merge Color Channels
Use the Color Composite feature to merge multiple fluorescent images acquired as monochrome single wavelengths into a color composite image.
Co-localization
Detect co-localization in biological specimens and graphically display the association between the two sets of data in a scatter plot.
Pseudo-color
Use pseudo-color to highlight features of interest in a gray scale image. Use colors to visually amplify specific intensities which are normally difficult to distinguish from their surroundings.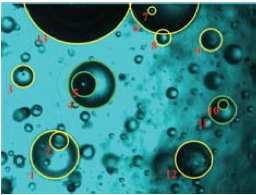 Count and Classify Objects
Count and characterize objects using over fifty manual and automatic measurements tools including areas, perimeters, lengths, roundness, major and minor axes, angles, centroids, holes, and population density. Tag objects of interest and easily sort by size or other measurement parameters.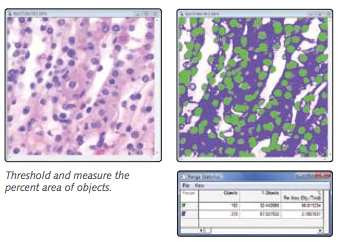 Interactive Measurements
Extract quantifiable data from your images using a variety of measurement options. Metrology tools allow you to measure best-fit line, arc, and circle. Detect edges and derive distance measurements using the Caliper tool. Calibrate and measure the intensity levels within your images.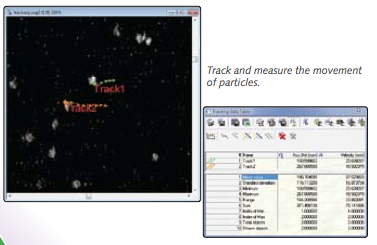 Track Moving Objects
Manually or automatically follow cells or other organisms as they move through time and space. Use correlation tracking to follow objects when image segmentation is difficult or not possible. Track and graph the changing of intensity parameters over time within an area of interest.
3D Redering and Measurements
Explore the depth of your images by visualizing and interacting with them in three dimensions. Measure angles, distances, and volumes to gain a more complete understanding of your specimens.
4D Tracking – Track and measure the movement of individual objects in a 4D sequence.
Neuron Tracing – Visualize and count the number of branches in a neuron as well as the length and volume of each branch.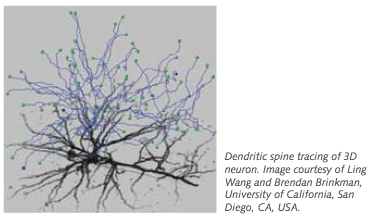 Measure and Visualize Surface Dimensions
Create beautifully illuminated 3D visualizations of your image stacks with the optional 3D Surface Inspector. Explore the depth of your z-stacks with manual measurements and easily create AVI animations.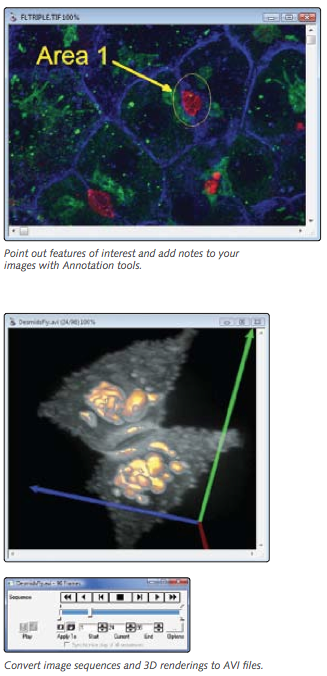 Visualize Image Data
Visualize image data with scattergrams, histograms, and line profiles.
Annotate
Point out features of interest and add text to your images with Annotation overlay tools.
Report and Publish Your Results
Export image data via DDE to Origin® and Microsoft Excel. Create custom reports with images data and text.
Create AVI Movies
Easily convert sequence files and 3D rendered images to AVI files.
Customize Your Workflow
Image-Pro Plus includes a variety of features that allow you to alter the application to fit your workflow. Create a personalized Workflow Toolbar with buttons for your most frequently used tools. Automatically convert your application to Dark Mode for low-light laboratory environments.
Automate with Macros
Image-Pro Plus offers convenient customization tools and a built-in programming language to streamline your imaging research. Save frequently performed operations using the Macro Recording tools and easily edit macros. Use the time-saving macros included in Image-Pro Plus or download macros from the user-contributed Solutions Zone section of our the website – www.mediacy.com.
For more advanced customization, Image-Pro Plus' built- in IP Basic programming engine offers a debugger, full editor, and dialog builder. Use with COM objects such as Microsoft® Word® or Excel®, and integrate and customize macros with Microsoft Visual Basic or Visual C++.
Training
Our image analysis training courses provide valuable information you can apply towards your imaging research. Whether you are new to Image-Pro Plus or you are an experienced imaging professional, our courses are designed to help you make optimum use of the latest imaging software techniques.
Technical Support
When you register your copy of Image-Pro Plus, you are entitled to 90 days of support through our Technical Support Program. Receive installation and configuration troubleshooting from our Technical Support Engineers via phone or email. Extend your technical support beyond 90 days to receive expert support year-round.
Image-Pro Plus
Supported File Formats
Read Support: TIFF, IPW, JPEG, JPEG 2000, EXIF JPEG, Flat (binary), GEL, TGA, BMP, PhotoCD, HDF, QED, FITS, AVI, and SEQ files.
Stack & Confocal Read Support: SEQ (Image-Pro and StreamPix), STK (MetaMorph), PIC (Bio-Rad Confocal), LSM (Zeiss Confocal), DEB and AVZ (AutoQuant Stack), LEI and LIF (Leica), DM3 (Gatan), DV (DeltaVision), and Fluoview 1000 files.
Write Support: TIFF, IPW, JPEG, JPEG 2000, Flat, TGA, BMP, EPS, AVI and SEQ files.
Support for 24-, 36-, and 48-bit color; 8-, 12-, and 16-bit grayscale as well as 32-bit floating point images.
Ask us if Image Pro Plus is right for your application!