The BA310E from Motic is designed specifically for the rigors of daily routine work in the demanding applications of Universities, Clinics, Laboratories, and any other life science or medical application requiring quality optical performance. Using Motic's Color Corrected Infinity Optics (CCIS®) with newly designed EF-N Plan Achromats, this model's full Koehler configuration provides maximum illumination quality for even the most demanding samples. Also, the BA310E's upgradeability to include additional contrast methods and discussion devices, ensure this model will offer long term functionality to all user levels in a variety of applications.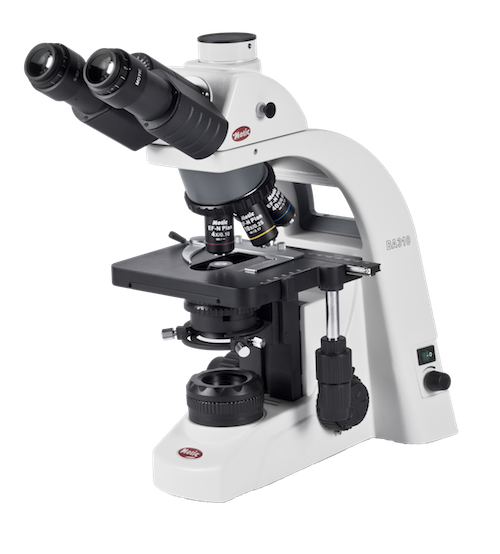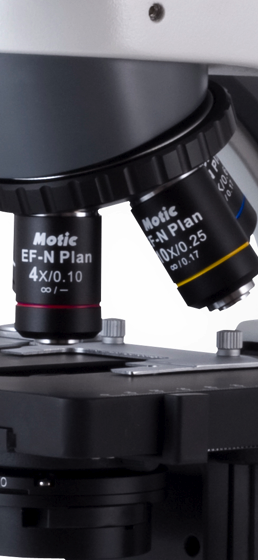 Objectives
To improve the overall optical performance of the BA310E, Motic introduces a newly designed generation of Plan Achromatic Objec- tives made of high quality optical glass; CCIS® EF-N Plan. These new lenses are now multi-layer coated for improved contrast to enhance images even with weak slide stainings. Together with a new calculated tube lens, the result is a fully corrected, perfected intermediate image without colored fringes. 
| Description | N.H. | W.D (mm) |
| --- | --- | --- |
| EF-N Plan 4X | 0.10 | 6,3 |
| EF-N Plan 10X | 0.25 | 4,4 |
| EF-N Plan 20X | 0.40 | 4,66 |
| EF-N Plan 40X, Spring | 0.65 | 0,35 |
| EF-N Plan 60X, Spring | 0.85 | 0,13 |
| EF-N Plan 100X, Spring, Oil | 1.25 | 0,13 |
| EF-N Plan 10X | 0.25 | 4,4 |
| EF-N Plan 10X Spring | 0.65 | 0,35 |
Eyepiece Tubes
Designed with an ergonomic viewing angle of 30o and incorpo- rating an interpupillary distance of 48-75mm, the BA310E observation tubes guarantee fatigue-free viewing for hours. A large field of view (20mm) enables fast and comfortable screen- ing. All standard eyepiece tubes now offer an extended "butter- fly" swivel adjustment to increase the viewing height to accom- modate individual user's positioning. The trinocular tubes allow digital documentation by using a wide variety of digital cameras, with 20/80 or optional 0/100 light splits for the trinocular exit. 
Eyepieces
The new standard eyepieces, N-WF 10X/20 with high eyepoint for eyeglass wearers, also made of high quality optical glass, provide consistent diopter adjustment for both eyes. This ena- bles perfect usage of reticles for measuring, counting, etc. Lockable eyepieces prevent inadmissible removal and con- firms Motic's dedication to student proof quality. 
Illumination
The BA310E offers multiple illumination options, such as the Koehler 6V/30W Halogen or 3W LED. 
Multi Viewing Devices
The BA310E Series offers multi-viewing teaching devices. There are two options available, depending on the teaching situation in your laboratory; face to face or side by side. The standard field of view of 20mm ensures that maximum information will be given to the student. Depending on the sample, the user can activate the built-in LED pointer in red or green color.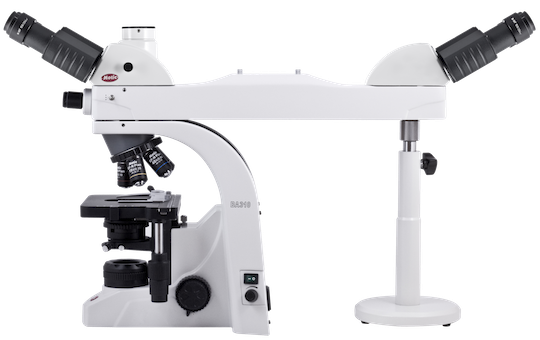 Phase Contrast – Slider solution
Offered as an option, phase contrast is available for objectives EF-N Plan Phase 10X/0.25 and EF-N Plan Phase 40X/0.65.
Darkfield – Slider solution
Darkfield is possible with a separate DF slider (up to 40X, max. N.A. 0.65). 
Polarization
Convenient and easy, the BA310 polarization sys- tem consists of a polarizer, placed on top of the collector lens, and the analyzer placed between the head and body.
Phase Contrast – Turret condenser
This Turret condenser contains the light rings for all EC-H Phase lenses 10X / 20X / 40X / 100X as well as a Dark field stop and a Bright field position. The corresponding objectives are: 
| CCIS® EC-H Plan Phase Objectives | W.D.(mm) |
| --- | --- |
| PL Ph10X/0.25 | 17.4 |
| PL Ph20X/0.45 | 0.9 |
| PL Ph40X/0.65 | 0.5 |
| PL Ph100X/1.25 Oil | 0.15 |
Digital Documentation

The importance of documentation has expanded into every aspect of microscopy, as has the method of documentation. The BA310E is available with both a traditional method (photomicrography) and a digital method. Digitalization of microscopic results is Motic's philosophy and the BA310 provides two methods. The combination of the BA310E trinocular microscope with the Moticam Series of digital cameras delivers crisp live images easy to be saved. All Motic cameras come equipped with software to convert the BA310 into an analysis and documentation station.
Another digitalization option is to replace the conventional head with the Digital head, transforming the BA310 into a teaching, training, and analysis station. With a USB2.0 output to the computer, the system provides high resolution imaging in both real time and capture modes.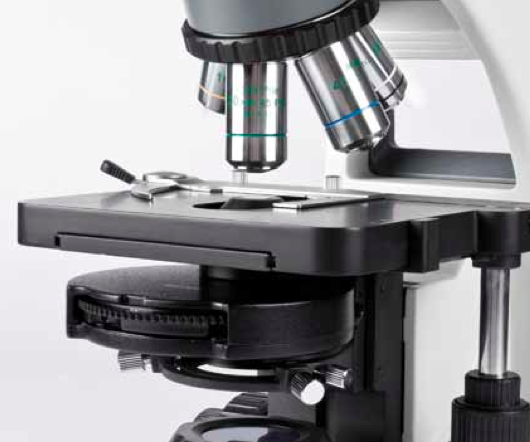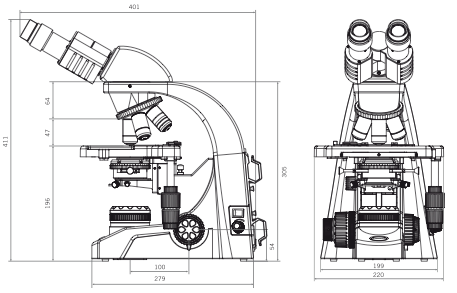 Motic BA310
BA310E Elite Microscope
Binocular/Trinocular head Siedentopf type, 30° inclined, 360° rotating (light split in trinocular head 100:0/20:80)

Interpupillary distance 48-75mm

Widefield high eyepoint eyepieces, N-WF10X/20mm, with diopter adjustment on




both eyepieces and rubber eyecups

Reversed quintuple revolving nosepiece

CCIS® EF-N Plan 2X, 4X, 10X, 40X S and 100X S-Oil

Coaxial coarse and fine focusing system

Built-in low position coaxial mechanical stage (right hand control)

Focusable Abbe condenser N.A. 0.90/1.25 with iris diaphragm and slot

Koehler illumination Quartz Halogen 6V/30W or 3W LED with intensity control

Universal power supply 100-240V

Blue filter, immersion oil, power cord, Allen hexagonal key, thumb screw andvinyl dust cover are included.