Labomed Lx POL Polarizing Microscope for Geology and Material Science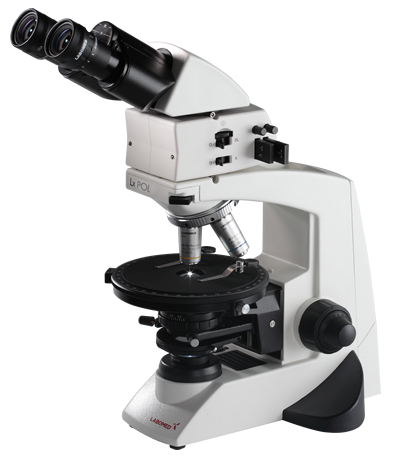 The highly ergonomic Labomed Lx POL microscope delivers reliability and comfort through precision opto-mechanical engineering. Tight design tolerances with the SF (strain-free) optical series produce near-zero optical impurity interference. Careful attention to the sub-stage polarized extinction disc and individually centerable objectives yield a highly controlled light path with respect to stage orientation, and ultimately a sharp contrast image. Student or laboratory users will find the operation simple and straight forward with full Koehler illumination capability.
Complete student version binocular Lx Pol polarizing microscope with swing out Bertrand lens, rotating polarizer, swing out analyzer, 4x, 10x, 40x plan achromat stain free objectives, achromatic condenser, full wave, quarter wave and Quartz-Wedge plates is priced at $3,650.00.
Complete laboratory version trinocular Lx Pol microscope with swing out Bertrand lens, rotating polarizer, swing out analyzer, 4x, 10x, 40x plan achromat stain free objectives, achromatic condenser, XY mechanical stage, full wave, quarter wave and Quartz-Wedge plates is priced at $4,454.00.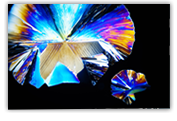 The Lx POL comes equipped with LABOMED MaxLite™ coated optics, a sputtered hard coating technology that delivers a research grade of anti-reflective and scratch resistant properties.  This is most useful in earth and materials sciences applications, where integrity of light transmission and mitigation of internal reflections are critical, as optimal light angle control and reduction of stray light yield a superior dynamic range and resolution.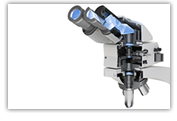 For precise conoscopic imaging, an integrated analyzer/Bertrand lens module provides individual flip-in/flip-out of the analyzer and Bertrand lens, with a conveniently located focusing dial.  Centration of the Bertrand lens is achieved through easy-access front mounted centering screws.  A conveniently positioned slider slot will accept a range of compensator plates.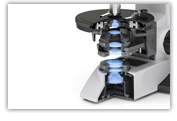 A large circular stage with two locking brakes is provided, delivering a smooth 360 degrees of rotation. An optional 100x objective further complements the SF series of strain-free optics, ensuring no optical impurities interfere with polarized light. A fixed verticality crosshair is a standard feature, maintaining its orientation as IPD is adjusted.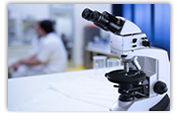 Two compensator plate slots and two centering tool slots are located onboard the analyzer/Bertrand lens module to prevent unwanted loss of accessories.  The microscope comes equipped with λ, 1/4 λ, and Quartz-Wedge plates.
Package Contents
Power Cable (6ft)
Cargille Immersion Oil
Nylon Dust Cover & Cleaning Cloth
Styrofoam Casing
Accessories (Optional)
Pointers & Micrometer Reticules Phase (Simple & Zernike)
Polarizing, Fluorescence and Dark Field Kits
Dual Viewing Bridge
Application Specific Objectives and Eyepieces
Cord Hanger Kit
Digital Cameras (3MP, 5MP, 7MP) and Adapters
Warranty Information
5 Year Parts 1 Year Electronics
2 Year Digital (on select models)
Speak with one of our specialists today to see if the Lx POL is right for you!
Labomed LxPOL
Stand

 – Single mold sturdy stand with anti rust materials. Extended base for better stability 

Viewing Bodies

 – Siedentopf Binocular or Trinocular head; 30° inclined; 360° rotatble; IPD 52-75 mm 

Eyepiece – WF 10X/18 mm with eye guards, diopter adjustment ± 5 mm and diopter lock;

optional: WF 12.5X/18 mm 

Focusable Wide Field eyepiece 10x/20mm with foldable eye guard. With factory installed fixed-verticality crosshair in one eyepiece 

Nosepiece

 – Reverse angle quadruple nosepiece (ball bearing type) with click stops, featuring independent ly centerable objectives 

Analyzer

 – Ajustable analyzer with centration screws. Focusable Bertand lens. Slider slots and spare slider holders. Comes equipped with Lamda, 1/4 Lamda, and Quartz Wedge plates. 

Polarizer

 – Rotating polarizer with orientation markers at every 90° 

Objectives

 – SF series infinity corrected DIN Plan Achromatic objectives: 4x(WD 30.0mm), 10x(WD 7.00mm), 40x(WD 0.65 mm); Optional 100x(WD0.23mm)spring loaded, oil objective 

Circular stage

 – 360° rotatable stage, 160mm with one degree increments and spring clips 

Condenser

 – 0.9 NA centerable strain free conderser 

Focusing

 – Feather touch attrition -free coaxial coarse and fine focus adjustment with auto tension adjust ment for longer life and ultra smooth movement. Weighted fine focus. 

Illumination

 – Halogen 6v-30W with one installed bulb. Koehler field diaphragm. 

Electrical

 – Universal input 100V – 240V AC, 50/60Hz. Built in voltage sensing power supply.