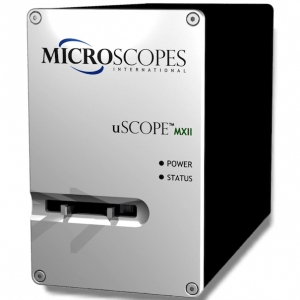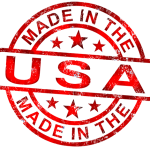 The uSCOPE MXII is a ultra low-cost, extremely portable, microscope slide scanner or Whole Slide Imager (WSI).
Inexpensively Scan 1 x 3″ Microscope Slides for Professional or Personal Use
The uSCOPE MXII is a small, compact, portable digital desktop slide scanner you can setup and install in your home, office or workplace laboratory. It's so easy to use, you will be up and running in less than 10 minutes. Available with a variety of objectives including 20x, 40x and 60x. Perfect for consulting, publication or analysis. 
The Future is Here

Ease of use, portability and high quality images are benefits of owning a uSCOPE MXII for a fraction of the cost of other whole slide scanners. The least expensive, high performance, microscope slide scanner on the market! Makes microscope image stitching easier than ever before! Proudly, the only slide scanner completely made in the USA!
Unlimited Scientific Applications
Clinical Pathology
Plant Pathology
Urinanalysis
Microbiology
Cell Analysis
Entomology
Veterinary Examination
Parasite Detection
Automated Digital Imaging for end users and OEM's
The uSCOPE MXII is a ultra compact, easy to use digital microscope scanner (WSI) for professional, clinical or research applications. Connect it to a personal computer, capture individual images, or scan slides for consultation, publication or automated analysis. Its unique slide holder design allows oversize slides and older, thick slides to be captured in minutes.
Small, rugged, portable, image stitching microscope slide scanner for your personal or professional needs!
Big images from such a small device!
The uSCOPE MXII digital microscope scanner captures your entire sample or MULTIPLE regions of interest. This digital workhorse offers unprecedented capability in an amazing small form factor. Actual size is a little more than 4 x 6 x 8 inches!  A little larger than most external hard drives, the uSCOPE MXII delivers high-resolution digital images from standard or over sized 1 x 3 inch glass slides. LED illumination and a HD 1920x 1080 color camera allows individual image capture and mosaic image stitching.
Because of its small size, the uSCOPE MXII whole slide imager is highly portable. The industry-standard USB interface makes it easy to plug in and start capturing images at work or on the road. It easily interfaces with standard desktop or laptop PC's and allows you to view and capture slide images in a wide variety of environments. Supplied with a built in viewer, proprietary images can also be exported as PNG, JPEG or TIFF file formats.
So easy to use and so inexpensive to own!
The uSCOPE Navigator software simplifies capturing an area of interest from your glass slides.  Most people are up and running in minutes! You can easily capture single images or multiple areas of interest. Regions are scanned using a long working distance, high numerical aperture 20x, 40x or 60x Plan Achromatic objective of your chosing. You can even create and apply your own multi-step image processing profiles to change image sharpness, improve contrast, or perform gamma correction. The uSCOPE MXII is so easy to use and its low cost makes it very affordable.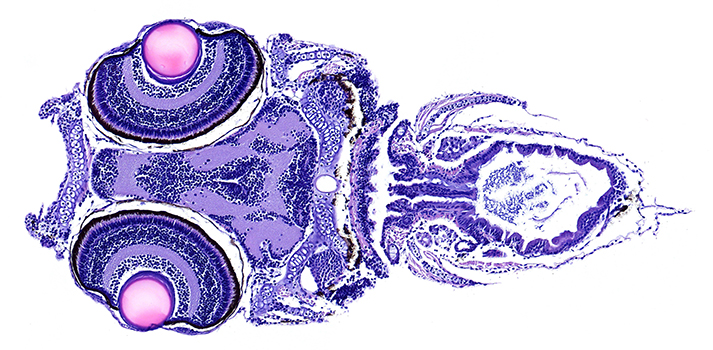 Call today to arrange an on line demonstration!

(281) 579-0342

Made in the USA.



uScopeMXII Digital Microscope
The uSCOPE MXII Digital Microscope captures images of your standard glass slides and sends them to your PC.
Overview and Objective Cameras
The uSCOPE MXII has an overview camera (for selecting regions of interest) and features a high numerical aperture 20x objective camera for scanning.
Automatic Focus
Samples are automatically focused for creating high-quality images.
Tiling or Stitching
You can easily zoom and navigate region scans which can be automatically tiled or stitched.
Portable Microscope Platform
At a weight of under 4 lbs., the uSCOPE MXII is highly portable and can easily be moved from your office to the lab.
Integrated Image Processing
Image processing profiles allow you to apply common filters to the uSCOPE MXII slide images. Preset and user-defined profiles are supported.
Economical Design
Finally, a digital slide microscope that everyone can afford.