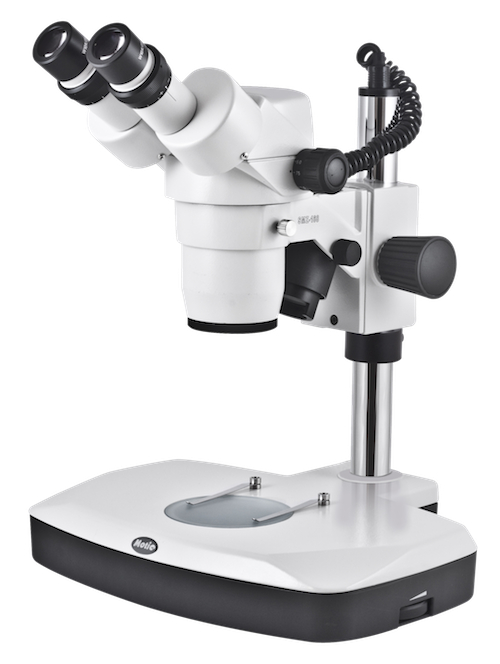 The SMZ168 Stereo Zoom microscope represents the top-of-the-line model in Motic's successful SMZ Series of stereo microscopes. From industrial quality control to biological preparation work, the SMZ168 is a durable workhorse model ready for a variety of applications.
Its Greenough optical system comes with a large zoom range of 6.7:1, parfocal at all magnifications. An impressive 3-dimensional upright image, combined with an indus- try leading working distance of 113mm in its standard configuration, allows easy manipulation of the sample.
The SMZ168 can convert easily into a complete documentation station by combining it with a member of the Moticam camera series.
Other configurations: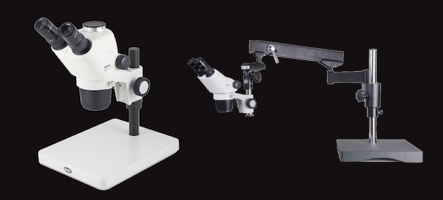 Auxiliary Objectives
The standard configuration of the SMZ168 has a working distance of 113mm. Higher magnifications can be achieved by using the following auxiliary objectives:
| Magnification | W.D (mm) | Max Field Diameter (with 10X Eyepiece) |
| --- | --- | --- |
| 1.5X | 50 | 20.4 |
| 2.0X | 34 | 15.3 |
To get a larger overview the customer may choose between the following options:
| Magnification | W.D (mm) | Max Field Diameter (with 10X Eyepiece) |
| --- | --- | --- |
| 0.3X | 324 | 102.2 |
| 0.5X | 192 | 61.3 |
| 0.63X | 156 | 48.7 |
| 0.75X | 127 | 40.9 |
Working Distance
The SMZ-168 provides a large working distance of 113 mm, which can be easily extended to 324 mm (with auxiliary objective 0.3X). Objective magnifications lower than 1X may be compen- sated by using high magnification eyepieces (up to 32X).
Zoom Range
The standard configuration of a 6.7:1 zoom ratio enables a total magnification of 7.5X-50X. The complete optical system is designed for parfocality through the complete zoom range. To increase the model ́s magnification range there is a selection of auxiliary objectives and eyepieces available.
3D Image
Motic's SMZ168 is based on the Greenough Optical System. With separated optical paths for both eyes, SMZ168 delivers impressive images, distortion-free, with an uncompromised high resolving power (220 lp/mm in standard configuration).
Modularity
Besides standard packages, the SMZ168 also offers a modular component system. Stands, optical setup with objectives/eyepieces and further accessories can be combined to freely build to the end-users application requirements. The standard stands can be replaced by one of the following stand options: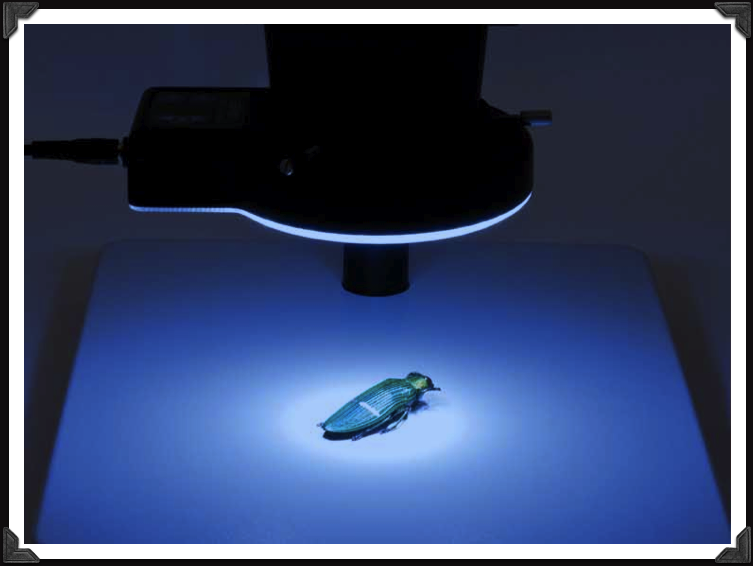 Illumination
Illumination is one of the most critical elements for the proper use of a stereo micro- scope. The built-in illumination of the basic stands provide the most compact options. For more demanding samples, a more powerful solution may be required.
The available ring lights are:
LED ring illumination 60T-B dimmable, 6800K color temperature (CE)

LED ring illumination 60T dimmable and segmentable, 6500K color temperature (CE)

A more powerful solution is provided by the Motic Cold light source MLC-150.
Digital Documentation
A more convenient setup is provided through Motic ́s philosophy of easy image digitalization. The combination of a SMZ168 with a member of the Moticam Series of digital cameras delivers excellent live images. All Motic cameras come equipped with software to transform the SMZ168 into an analysis and documentation workstation. The Trinocular SMZ168 allows the use of different camera adapters, depending on the chip size of the camera in use.
Standard Photomicrography
The adaptation of a traditional single lens reflex camera (SLR), today mostly digital, requires a Trinocular version of the SMZ168. This setup delivers high resolution images of small fields.
Standard Packages
The standard packages of Motic's SMZ168 come as Binocular or Trinocular versions with 35° viewing angle, 10X eyepieces and standard 1X objective. Both standard zoom bodies can be combined with a Plain stand (without illumination) or with a Transmitted light stand. 

Motic SMZ-168
Greenough Optical System

Achromatic optics with anti-fungus treatment

Widefield binocular/trinocular 35o observation tube (light distribution 0:100 left eyetube/trinotube in photo position)

Widefield high eyepoint eyepieces, WF 10X/23 with diopter adjustment on both eyepiece tubes +/- 5dpt

Interpupillary distance 52-75mm

Zoom 6.7:1; 5 clickstops

7.5X-50X Standard magnification

Working distance 113mm