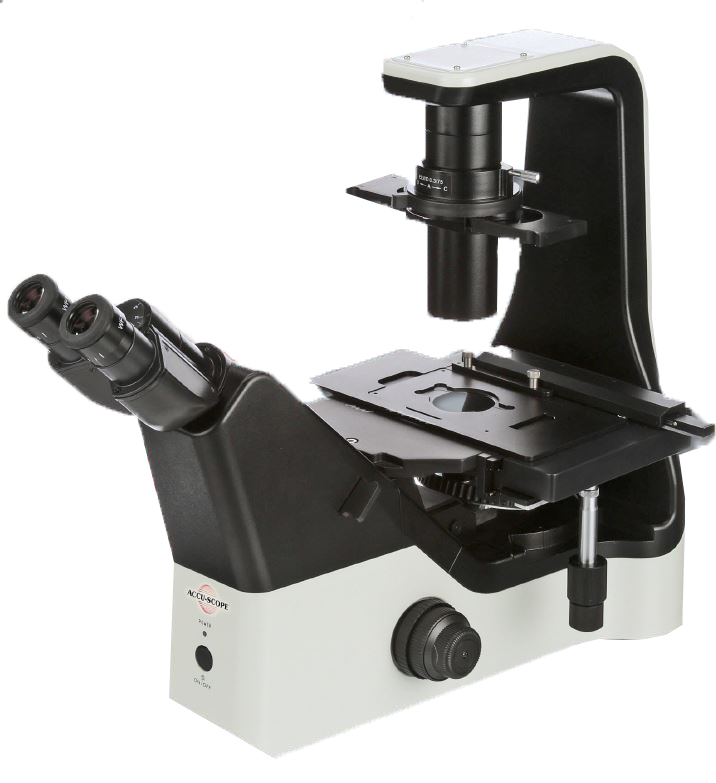 ACCU-SCOPE EXI-410 Inverted Microscope
The New ACCU-SCOPE EXI-410 Inverted Microscope delivers outstanding optical performance, value and resolution for the study of tissue cultures and live cells in laboratories, hospitals, universities and educational institutions. With the included mechanical stage and stage plates the EXI-410 easily accommodates 96-hole well plates, tissue culture flasks, roller bottles, hemacytometers, petri dishes and 1×3″ slides.
Ease of Viewing
The EXI-410 is available in three standard configurations featuring a selection of contrast methods including brightfield, phase contrast, emboss contrast and fluorescence. All suitable to address a wide variety of applications. Each microscope is supplied with a left side camera port and the optional adapters to connect digital, HD video or low light cameras.
Compact Design, Saves Space
The compact design of the EXI-410 saves valuable countertop space in today's crowded lab environments. Idea for phase contrast and simultaneous or stand alone fluorescence. The perfect, inexpensive research inverted microscope designed for micromanipulation and microinjection applications.

Pre-Configured Simplicity
With everything included from long working distance phase contrast objectives to mechanical stage to stage plate inserts the EXI-400s offers a safe, uncomplicated choice for modern lab managers.

Accu-Scope EXI-410 Inverted Microscope
Optional Accessories
NIS60 Infinity Optical System, f=200mm
Observation Methods: Brightfield, Phase Contrast, Emboss (Hoffmann) Contrast, Fluorescence
Viewing Body: Seidentopf Viewing Head, Inclined at 45°, Interpupillary 48-75mm;
Left-side camera port (light split with eyepieces: 100/0 and 0/100)
Eyepieces: EW10x/22mm, Ø30mm
Nosepiece: Quintuple Nosepiece
Objectives
Infinity Plan Achromat 4x, 10x, 20x, 40x
Infinity Plan Achromat Phase Contrast 4x, 10x, 20x, 40x
Infinity Plan semi-Apochromatic 4x, 10x, 20x, 40x
Infinity Plan semi-Apochromatic Phase Contrast 4x, 10x, 20x, 40x
Stage
Flat stage 170mm(X) × 250mm(Y); 300mm wide with auxiliary stages installed
Optional mechanical stage movement range 129mm(X) × 83mm(Y)
Holders
Terasaki holder / Ø65mm petri dish holder
Ø35mm petri dish holder
Ø54mm petri dish holder, hemocytometer, glass slide holder
Well clamper
Universal holder for Terasaki plate holder, glass slide, Ø35-65 dish
and hemocytometer
Ø90mm petri dish holder
Condenser
Extra-long working distance condenser, WD 75mm, NA 0.3
Slider
Universal phase contrast slider 4x/10x, 20x, 40x
Stand
Cast aluminum alloy
Illumination
3W S-LED Light
Fluorescence
3W LED lights (UV: 365nm or 405nm, Blue; 485nm, Green: 525nm or 560nm)
3-position filter cube turret
Focusing
Coaxial coarse and fine focus; fine-focus precision 0.002mm;
focus range: 7mm up, 1.5mm down; total travel limit 18.5mm

0.35x, 0.5x, 0.65x and 1.0x adjustable C-mount adapters

Accessories
Eyepieces, reticles, micrometers; IF550nm green filter; centering telescope; dust cover
Dimensions (LWH)
543mm x 243mm x 470mm (563mm x 243mm x 470mm
with fluorescence configuration)
Warranty
5-year limited warranty for parts, labor and electronic components.
1-year warranty on LED bulbs