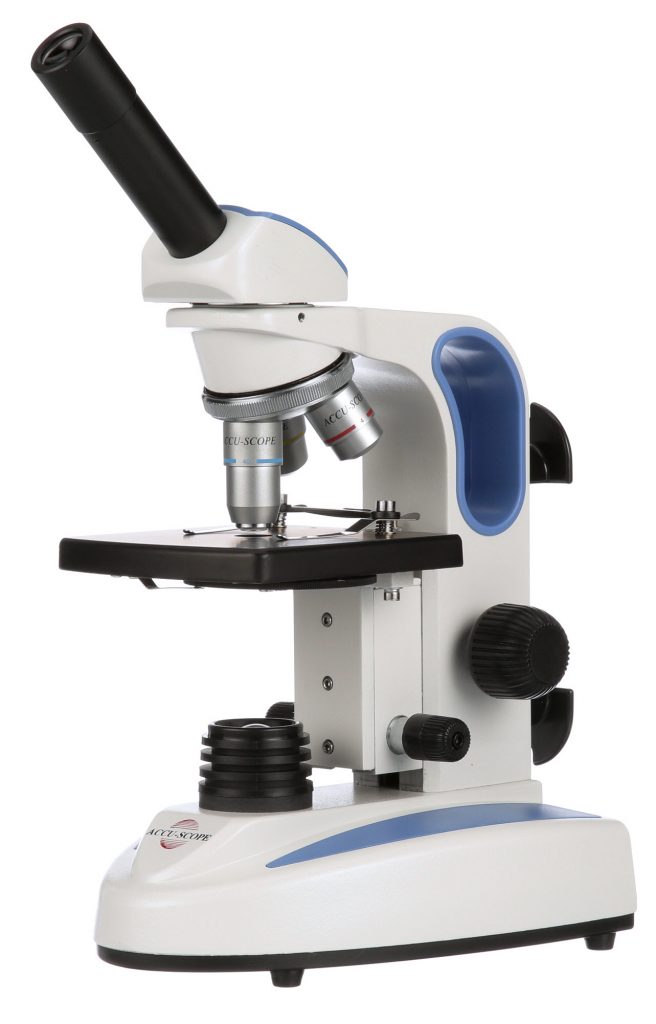 ACCU-SCOPE EXM-150-LED-Student Microscope
The EXM-150-LED-Student microscope series focuses on durable performance and value required by today's educators. Designed to withstand years of heavy classroom use, the EXM-150-LED microscope series is a student-proof instrument that offers many professional features at an affordable price.
Bright, Fluorescence Illumination
With a super bright, LED illuminator the EXM-150-LED-Student microscope series delivers excellent illumination. Light adjustment is controlled by either the disc or iris diaphragm depending upon the model that is ordered.
Mechanical Stage
Our optional mechanical stage is a true mechanical stage – not an attachable one – providing the user with ergonomic low position coaxial controls. As an added benefit all of our mechanical stage configurations. It also includes an iris diaphragm giving the user even more control over making adjustments to the light settings.
Option for a 100x objective
As an option our EXM-150-LED-Student microscope series can be supplied with a 100xR oil achromat objective. This requires a specific configuration with an N.A. 1.25 abbe condenser.
ACCU-SCOPE 3080 Monocular Microscope
Optional Accessories
Inclined / vertical teaching head

WF15x and WF20x eyepieces

20x, 60x and 100x oil objectives 

Mirror and fork option

Microscope carrying case
Miscellaneous
Microscope Dimensions (LWH): 229mm x 165mm x 381mm

Physical weight: 8 lbs.
Warranty
5 year limited warranty for parts, labor and electronic components.