A compact size, battery pack and wireless connectivity make the Grundium OCUS truly portable and easily shared between a group of researchers. Affordable and practical microscopic imaging for individual pathologists or veterinarian pathologists, researchers at universities and medical schools make it the perfect choice for a slide scanner.
The Grundium OCUS weighs only 3,5 kilograms and can easily be packed in a bag and brought to wherever it is needed. It makes sharing the device between colleagues easy. The OCUS fits comfortably in carry-on luggage and travels conveniently to even remote locations with no medical facilities. For instance the spreading of infections can be studied by analyzing samples with the Grundium OCUS at the speed of traveling from one site to another. There is no need to prepare samples for shipping or budgeting time for the availability of a specialist at the microscope when the samples arrive. Instant access to the pool of experts around the world means far faster cycles with professional analysis and second opinion.
Field studies of the natural world can be conducted on-site with the Grundium OCUS digital microscope. Examining plants, insects or anything else requiring microscopy for accurate analysis can be done in the wilderness, right where it is happening and when it is happening. The images can be stored in the internal 500 Gb memory and when paired with a mobile phone, the image files can be immediately shared with colleagues at the lab or with an expert, researcher or media anywhere in the world.
The OCUS has Multiple connectivity options for local and remote usage. It can be connected locally to a laptop, tablet or phone. It also has independent Wi-Fi and Ethernet support to enable direct internet connection, cloud support and remote access.
The portability of the Grundium OCUS is advancing the level of smaller research teams in various fields of science, improving international collaboration. As an affordable device it puts digital microscopy within the means of even small schools or clinics with limited capability to invest in equipment.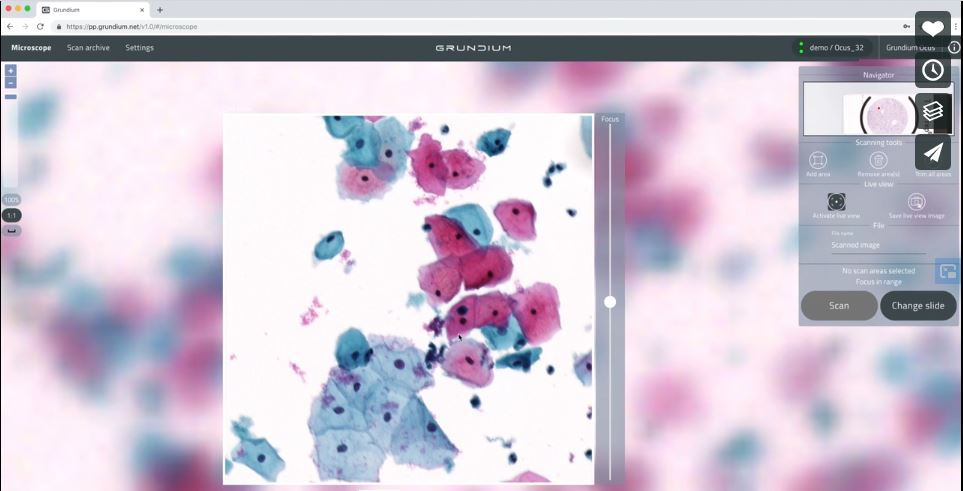 The ONLY stand-alone scanner that works with iPad's, Mac or Windows computers via an internal Wi-fi. No cabling required! No need to connect to secure internet servers! Saves images to internal or optional external hard drives or simple thumb drives.