Linkam THMS 350V Freeze Drying System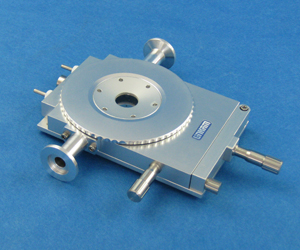 Call Meyer Instruments, Inc., for pricing and to learn more about Linkam temperature controlled stages
Call 281 579-0342 Today!
Linkam THMS 350V
Based upon the proven low pressure and temperature control technology developed for the Freeze Drying System (FDCS196), Linkam has modified the stage body and temperature control element to extend the temperature range from -196°C up to 350°C at a vacuum of 10-3mbar using a simple 1.5L rotary vacuum pump.
It is now possible to carry out ultra low temperature experiments with virtually no gas or air contamination of the sample. It is also possible to first pull a vacuum and then bleed in the desired gas.
A prirani gauge can be supplied to relay the sample chamber pressure to either the LINK software or the LinkPad. By connecting the vacuum pump to the MV196 motorized valve, pressure can be quickly and accurately varied utilizing simple on screen software controls.
To cool samples from ambient down to -196°C, add the LNP95 liquid nitrogen cooling system.
This system can also be supplied with electrical connections as the THMS350EV.
Linkam THMS 350V Freeze Drying System Specifications
Temperature Range -196°C* to 350 °C (*with LNP95 Cooling Pump)
16 mm X,Y sample manipulation
Sample area of 22mm diameter
No PC required (unless using motorized valve)
Vacuum tested to 10-3mbar
Can be used with transmitted or reflected light
Mounts directly to microscope table or substage
Stage body size – 160 x 80 x 24 mm
100 ohm platinum sensor 1/10th din standard class A
Temperature stability < 0.1°C
Direct injection of coolant into block
Highly conductive metal for improved heat transfer
Maximum heating / cooling rate of 30°C/min
Response time of <1 second at 5°C/min at 50°C
Objective lens minimum working distance 4.5mm
Condenser lens minimum working distance 13.2