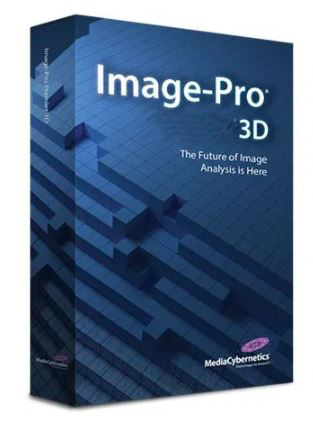 Explore the depth of your images by visualizing and interacting with them in three dimensions.
Image-Pro 3D includes all of the features found in Image-Pro with additional tools for three dimensional rendering, visualization and measurements.  .
View volumes from any angle, with adjustable transparency and shading
Zoom, rotate, and pan image stacks
Use adjustable lighting controls for enhanced viewing
Visualize clipping planes in orthogonal and oblique plane-selections
View internal features of 3D stacks by selecting volume of interest (VOI)
Display synchronized, orthogonal views through an image stack with Stack Slicer
View multiple iso-surface renderings based on segmentation of selected intensities and colors
Project a virtual shadow of your image to get a better visual understanding of your object's 3D shape
Ask us if Image-Pro 3D is right for your application!
Apply Measurements to 3D Images
Obtain quantifiable data from your three-dimensional image through manual and volume measurements.
3D Manual Measurements
Individual point
Point-to-Point distance
Point-to-Surface distance line
Line
Angle
Point-to-Line distance
Circumference of an object bisected by plane
Surface distance between two points
3D Volume Measurements
Volume
Surface Area
Sphericity
Feret measurements
Bounding box measurements
Centroid information
Automatic update of measurements from frame-to-frame playback of 4D sequences
Set filter ranges for any measurements
Clean borders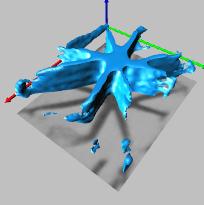 Industrial image created with Image-Pro 3D
Images are courtesy of Ralph E. Napolitano of Ames Laboratory Solidification Science. Department of Materials Science and Engineering, Iowa State University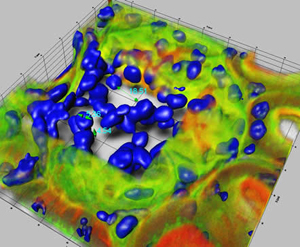 3D rendering of a kidney glomerulus
Image courtesy of Dr. Brian Matsumoto -Department of Molecular, Cellular and Developmental Biology University of California, Santa Barbara, CA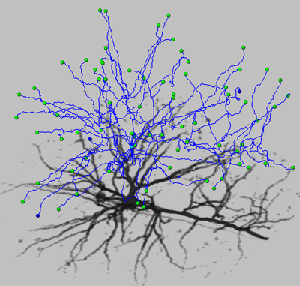 Dendritic spine tracing of 3D neuron. Image courtesy of Ling Wang and Brendan Brinkman, University of California, San Diego, CA, USA.
Track Objects in a 4D Sequence
Track and measure the movement of individual objects in a 4D sequence with the 4D tracking feature in 3D Constructor. Choose to automatically find 4D tracks in your image or manually track objects.
Visualize, Trace, and Count Neurons
Analyze neurons and other filament structures with the neuron tracing tool in 3D Constructor. Visualize and count the number of branches in a neuron as well as the length and volume of each branch.
Explore Wavelength Overlap with 3D Colocalization
Use Image-Pro's colocalization tool to indicate which fluorescent regions are to be considered as overlapped, or colocalized. Then activate 3D Constructor to display the colocalized regions in three dimensions.
Create Animations of 3D Images
Share your 3D rendered images with others using 3D Constructor's easy 3D animation creation tools. Create animations with changing transparencies, slide positions, colors, etc. to give others a better understanding of the depth of your 3D image. Save in AVI or multi-frame TIFF or SEQ formats.
Display and Export Image Data
Display and interact with measurement data from individual, histogram, or scatterplot displays. Export 3D measurement data to Microsoft® Excel.
Training
Our image analysis training courses provide valuable information you can apply towards your imaging research. Whether you
are new to Image-Pro 3D or you are an experienced imaging professional, our courses are designed to help you make optimum use of the latest imaging software techniques.
Technical Support
When you register your copy of Image-Pro 3D, you are entitled to 90 days of support through our Technical Support Program. Receive installation and configuration troubleshooting from our Technical Support Engineers via phone or email. Extend your technical support beyond 90 days to receive expert support year-round.
Image-Pro Plus 3D
Supported File Formats
Read Support: TIFF, IPW, JPEG, JPEG 2000, EXIF JPEG, Flat (binary), GEL, TGA, BMP, PhotoCD, HDF, QED, FITS, AVI, and SEQ files.
Stack & Confocal Read Support: SEQ (Image-Pro and StreamPix), STK (MetaMorph), PIC (Bio-Rad Confocal), LSM (Zeiss Confocal), DEB and AVZ (AutoQuant Stack), LEI and LIF (Leica), DM3 (Gatan), DV (DeltaVision), and Fluoview 1000 files.
Write Support: TIFF, IPW, JPEG, JPEG 2000, Flat, TGA, BMP, EPS, AVI and SEQ files.
Support for 24-, 36-, and 48-bit color; 8-, 12-, and 16-bit grayscale as well as 32-bit floating point images.
Recommended Requirements
Windows XP (SP3) – 750 MGz or better – 1GB RAM – 20GB storage
Windows Vista Business and Ultimate (32 and 64 bit) (SP1) – 2.1 GHz – 2GB RAM – 40GB storage
Ask us if Image Pro 3D is right for your application!