Ask us for an Image-Pro Free Trial!
Call For Image-Pro Premier pricing today!
Image-Pro by Media Cybernetics
Image Analysis
Platform
Start by building a powerful base with the Image-Pro Platform, then customize the system by adding the modules that meet your application needs. Take advantage of the Image-Pro SMART Technology to obtain results accurate and easily without complexity.
Customize the system further by adding APPS to streamline your work or develop your own macro to standardize and automate your analysis.
Smart Segmentation
A revolutionary method that utilizes a pixel classification algorithm able to identify hard to segment objects and regions using a simple three step process.
Implement Smart Segmentation to identify faintly-colored objects, textured objects, and objects or regions on uneven backgrounds.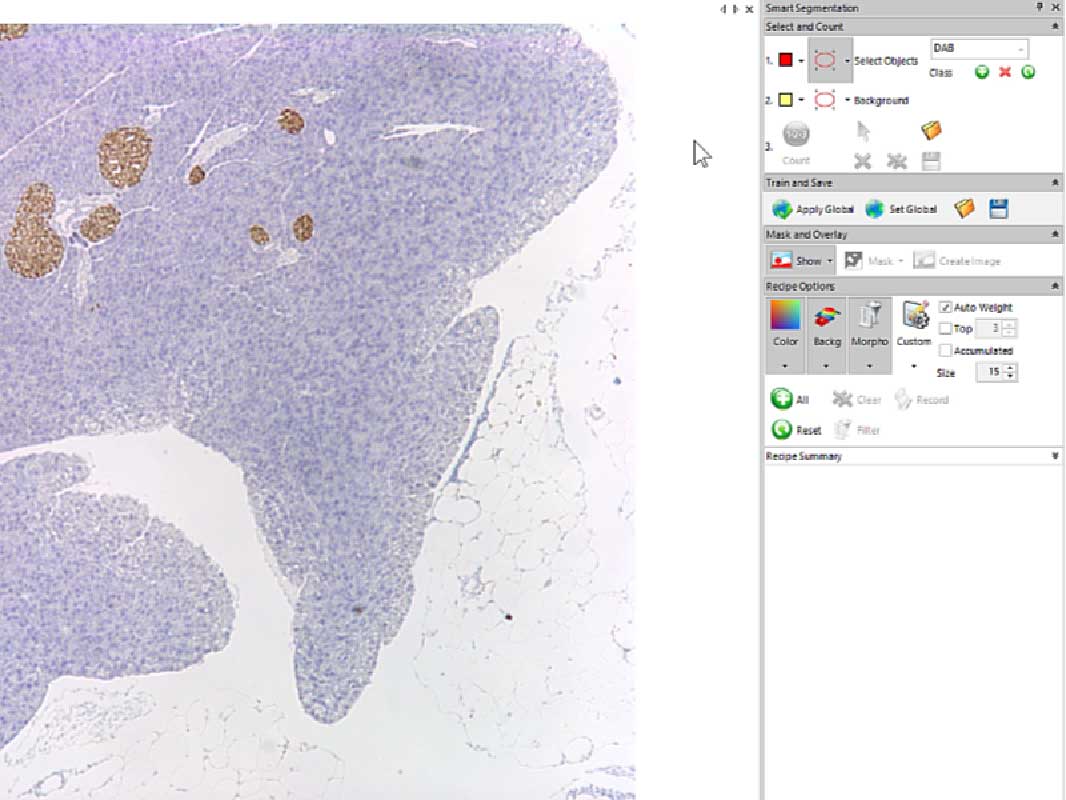 How does Smart Segmentation stack up against
standard Histogram-Based Segmentation?
Smart Segmentation

Histogram-Based Segmentation

Object Selection
Select sample on image using ROI
Move Histogram Slider until objects are isolated.
Select Second Object
Select sample on image using ROI
Same as above on a separate image to be combined later
Background
Select sample on image using ROI
Not selected in above exercise
Method
Machine Learning
Manual Adjustment
Adjustments
Adjust on Image
Adjust Histogram
Ease of Use
Simple
Skilled
Automatically compensate for uneven backgrounds
Select two regions, and Smart Segmentation will automatically calculate the difference in the unevenly illuminated background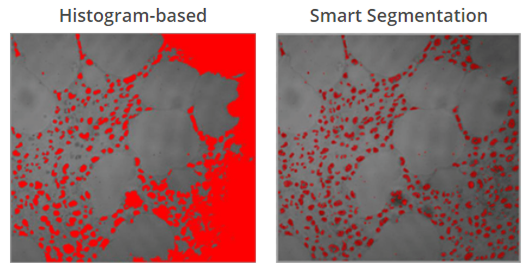 Select & Classify
Objects by Color
Select & Classify Objects by Color Locate and segment objects based on their color. Create classes to further characterize and streamline data collection and reporting.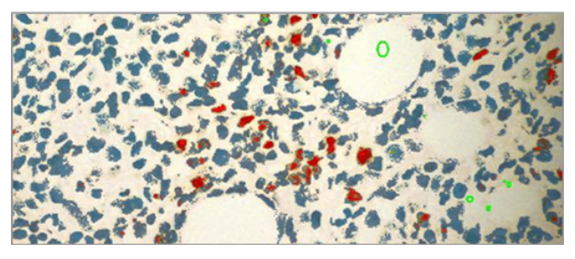 Automatic
Measurements
Image-Pro's Automatic Measurements is the foremost solution for gathering data from images. Our simple step-wise approach to the problem is designed to provide the ultimate flexibility to analyze nearly any image type while remaining simple to quickly learn and teach to others.
Data
Collector
Set up your Automatic Measurements to compile data from a series of images and deliver individual and cumulative results with the click of a button.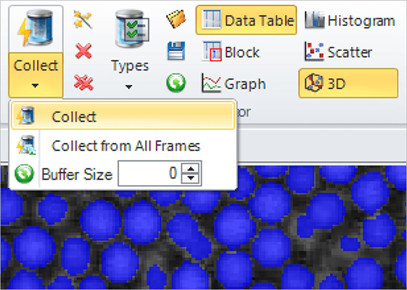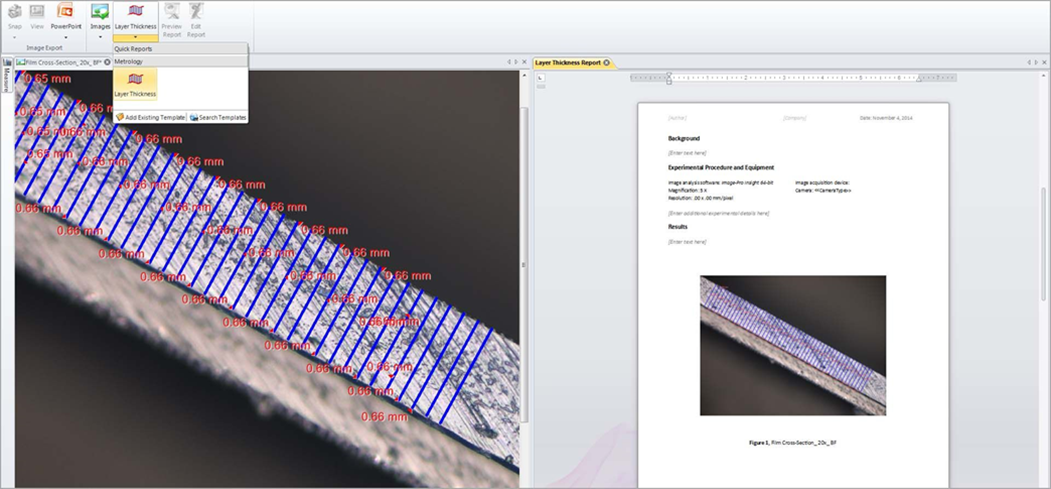 Customizable
Reports
Send data and images to the Image-Pro report generator, able to create simple custom reports based on pre-defined templates. Print or export to Word or Excel or generate a PDF.
What you can expect from the Image-Pro Platform
Image Processing and Manipulation
Image Filtering, Alignment, Annotations, Background Subtraction and
Customization:
Multi-User Sign-on with saved preferences, Tool Bar controls, Saved Layouts per User, Report Editor and Customization, Audit Trail
Multi-Dimensional Image Support:
Load, Save, and Analyze Time-Lapse, Z-Position, and 3D Viewer to image multiple images in a single interface.
Basic Image
Analysis
Line Profile, Point to Point Measurements, Angle Measurements, and Manua
Advanced Image Processing:
FFT, Image Math, Sequence Controls and Editing, High Dynamic Range Processing, and Large Spectral Filtering
Scripting and Macros:
Develop and save custom workflows to easily batch process large amounts of images or image sets simply
Information Management:
Export Images to Power Point, Output results to our standard formatted report
Advanced Image and Automated Analysis:
Multi-Line Profile Tools, Count/Size Objects, 2D Tracking, Voronoi Map, Learning Classification
Multi-User
License:
Increase your efficiency be implementing a multi-user license that will allow several users to access the platform at various workstations.
Training
Our image analysis training courses provide valuable information you can apply towards your imaging research. Whether you are new to imaging or are a more experienced imaging professional, our courses are designed to help you make optimum use of the latest imaging software techniques.
Technical Support
Receive installation and configuration troubleshooting from our technical support engineers via phone or email. Purchase an Image-Pro Maintenance Agreement to receive a full year of technical support and software updates.
Get Started with Free Video Tutorials
As an Image-Pro user, you'll have access to a growing library of free 3- to 5-minute video tutorials. Learn time saving tips and familiarize yourself with the wide range of analysis tools available to you – without ever having to leave your computer.
Image-Pro Users Email List
When you choose Image-Pro software, you instantly join a community of image analysis professionals. Join the free Image-Pro users email list to ask questions and learn from other users.
Share Tools on the User-Contributed Solutions Zone Website
Explore our Solutions Zone website to find a wealth of useful information about Image-Pro. The Solutions Zone is an easily searchable online database of macros, device drivers, plug-in modules, application programs, and development consultants that support Image-Pro and other Media Cybernetics software programs.
Image-Pro
Supported Operating Systems:
Microsoft Windows XP® SP 3 and later – 32 bit
Microsoft Windows® 7 Professional and Ultimate – 32 and 64 bit
Recommended Requirements
Manufacturers change system specifications regularly so it is difficult to describe the exact configuration that is required to use Image-Pro successfully. However, there are some important guidelines to consider before purchasing or upgrading your computer hardware for use with Image-Pro.
Rule of Thumb:
Everything depends on memory and speed. For users who want the best possible experience and product performance we recommend that you review the requirements below and follow-up with a review of the hardware priorities to understand how the whole system plays a part in the applications performance.
Recommended
Windows 10 (64-bit)
Windows 8.1 (64-bit)
Windows 7 (64-bit)
*32-bit versions are supported but not recommended.
Multiple high-speed SATA hard disks or SSDs; 8 GB free on installation drive + free space for images (20 GB+)
2.8 GHz CPU Intel quad-core processor or better
16 GB memory or higher
NVIDIA
GeForce GTX Cards with 4GB graphics memory & Open GL 4.2 or higher
DVD-ROM drive if optional DVD purchased
USB Port Required for hard licenses and offline license activation
Internet connection required for online services*
Internet Explorer version 9 or higher
High Performance for 3D Module
Windows 10 (64 bit)
Multiple high-speed SATA hard disks or SSDs configured in RAID 5; 16 GB free on installation drive + free space for images (1 TB+)
3.0 GHz Intel quad-core processor or better
48 GB memory or higher
NVIDIA
GeForce GTX Cards with 4GB graphics memory & Open GL 4.2 or higher
DVD-ROM drive if optional DVD purchased
USB Port Required for hard licenses and offline license activation
Internet connection required for online services*
Internet Explorer version 9 or higher
Important Notes:
*This product may allow you to access certain features that are hosted online ("online services"), provided you have a high-speed Internet connection. The online services include but are not limited to, automatic updates, support links, access to video tutorials, and more.
Microsoft .NET Framework 4.0 (automatically installed by application).
Specifications are subject to change
Ask us if Image-Pro is right for your application!
Try Image-Pro out FREE for 14 days.
Powerful image analysis software is the secret to great discoveries in any field. We have been custom tailoring Media Cybernetic's Image-Pro for over 25 years! Give us the chance to prove it to you. We will not only give you the software to use, but we'll give you the grand tour FREE. Call today!