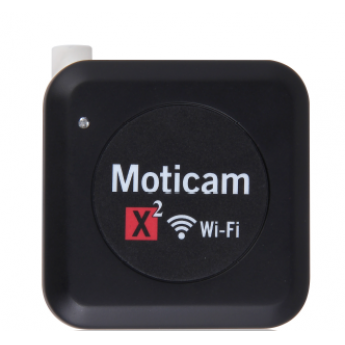 Motic Moticam X2 Wi-Fi Camera
The new Moticam X2, is a user friendly wireless IP CMOS camera with replaceable and rechargeable battery. It has a RJ-45 network connection port for operators to be able to use their existing network.
Together with Motic's DigiLab II educational classroom camera support software, teachers can follow a students progress by streaming in real time up to 48 cameras to a central workstation. The teacher can then see what each student is viewing through their microscope and even project any students image for the entire class to see.
Interested?  Call Meyer Instruments today – (281) 579-0342 to find out more.
Key features:
2.0 MP CMOS, Wireless Camera (Wi-Fi Connection)
1280 x 960 (1.3MP), live image resolution through WiFi / RJ-45
1600 x 1200 (2MP) , still captures to computer or mobile device
Wi-Fi output as Hot-Spot, using existing Wi-Fi network or through RJ-45 connection
1450mAh rechargeable battery
Power On/Off button and support hardware reset
Optional DigiLabII Educational Classroom Camera Support software