NanoZoomer SQ whole slide imager is Hamamatsu's new desktop, single slide scanner for creating whole slide images of histology tissue specimens. Its very compact size makes it portable and well suited for even the smallest lab, while maintaining the well renowned reliability and robustness of Hamamatsu whole slide scanners.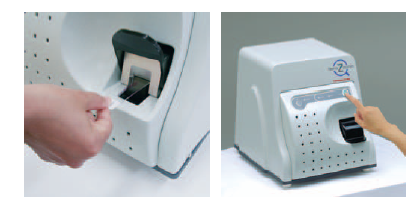 Compact and light – making it easy to move when slides need to be scanned at different locations
Easy connection to a laptop or standard by USB 3.0 interface
High image quality is maintained – although small and cost effective, the NanoZoomer SQ offers the same excellent image quality like its larger brothers of the NanoZoomer family
Simple operation – scanning your slides and viewing the results is easy through its very intuitive software. All members of your team can use the scanner with a minimum of training
Z-Stacking feature allows Extended Depth of Field (EDF) imaging with optional third party software
Plan Apochromatic 20x/0.75 n.a. objective for beautiful pictures
Perfect for frozen sections and fine needle biopsies
Virtually maintenance free
Low cost – affordable pricing allows multiple purchases!